About

PRIME AIR AMBULANCE
History
Prime Air Ambulance, one of the leading ambulance companies in Asia, and has been providing regional air ambulance support since as long as the early 1970s. Founded by Dr.Kalyan Sachdev after his return from Vienna, Austria, to establish lines of medical air support for the region of South Asia similar to the air ambulance companies existing in Europe.
Prime Air Group was then restructured in 2008 to provide a 360 degree of quality air ambulance services in the region and globally.
Prime Air Ambulance, today has a fleet of 5 fixed wing aircrafts and a Helicopter where it provides dedicated air ambulance services and executive air charter services. With committed air ambulance specialists onboard, the organization provides expert and top class assistances to patients.
Prime Air Ambulance has also launched its Global Air Ambulance card which pays for Air Ambulance transports worldwide; the first in the region with a strong membership base.
Prime Air is also a member today of the NBAA (National Business Air Association) http://www.nbaa.org.
PRIME AIR GROUP provides the best solution in its class with a strong expertise and deep knowledge in the field of aviation within the region, making us air ambulance specialists to serve people from all around the world.
SOCIAL CAUSE
Prime Air Ambulance is also a proud member and affiliate of SevaAir the first initiative for providing humanitarian air services in the region of South Asia.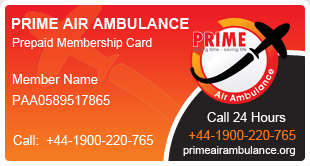 Need And Importance of Air Ambulance




Posted on October 10, 2012


When you are traveling an Air ambulance could be the most important travel necessity. In case of medical emergency you require medical attention and immediate transport from the area to a hospital
About Prime Air Ambulance
Connect With Us
India Sales
Suite 311, 3rd Floor, G-5 I.G.I. Airport
Palam, New Delhi-110037
ops@primeairambulance.org
Global : +44-1900-220-765
Regional Direct: +91 - 9711198934
Air Ambulance Services in India:
International Air Ambulance Services: