Letter From CEO
Dear Viewer,
I thank you for the time taken to view PRIME Air Ambulance. I would like establish the fact being in the business for many years Prime Air Ambulance has the right ingredients that make it the right partner for your needs. My focus has been to deliver yet again a quality product out of Asia where there is bridge of trust building between the various continents we work with.
Representing your needs be it your members or ours eventually it is the need of the patient and their loved ones we represent. It has been my dream to establish a fully dedicated Air Ambulance program out of Asia by being the forefront in Quality, services and affordability by enhancing value of such services by offering our membership pre paid Air Ambulance programs for our members, corporate and Channel business partners.
I appreciate and warmly thank the ones who have believed in us all the way and supported our strong vision to become one of frontier players within the industry within Asia and realize the value and difference of using our services directly via our dedicated fleet at your service.
Yours Sincerely
Abhijeet Singh Sachdev
Group CEO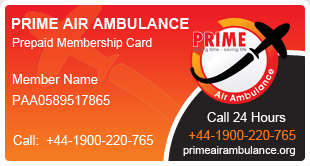 Need And Importance of Air Ambulance




Posted on October 10, 2012


When you are traveling an Air ambulance could be the most important travel necessity. In case of medical emergency you require medical attention and immediate transport from the area to a hospita
About Prime Air Ambulance
Connect With Us
India Sales
Suite 311, 3rd Floor, G-5 I.G.I. Airport
Palam, New Delhi-110037
ops@primeairambulance.org
Global : +44-1900-220-765
Regional Direct: +91 - 9711198934
Air Ambulance Services in India:
International Air Ambulance Services: