Turbo-Prop
Aircrafts, we arrange in emergency or non emergency cases, have professional FAA licensed operators. They have commendable records of safety and devotion for the persons they've flown and for those also who will be in need in future. We are involved into a kind of business where we help the persons in emergency. We can arrange smaller to larger VIP or non VIP aircrafts for all categories of patients. Before boarding and after landing careful inspections are made regarding aircrafts so that safety of the traveling persons can be made of grade one nature. We also do medical supervision of each flight.
We make your and your loved one's journey comfortable with our contemporary style of flights. Aircrafts used in medical transportation should be facilitated with the latest equipments and medications so that patients can stay out of danger. Prime air ambulance arranges air ambulances of the same features that support the life of many during the journey.
Mainly, we arrange our air ambulance services in all over the Asia. To give a fast and affordable air medical transportation Prime Air Ambulance has latest Aircrafts. By providing air medical transportation over the years we have maintained a reputation in the same field. Moreover, we are constantly ready to provide the best services as we believe in providing trustworthy services.
PAA has King Air B200 and Cessna Citation CJ2 in its services with below mentioned features for air medical transportation:
King Air B200:
* Max cruise speed – 292 ktas 541km/h
* Capacity – 13 passengers
* Rate of climb – 2,450 ft/min
* Service ceiling – 35,000 ft
* Range – 1,800 nm/3,338 km
* Length – 43 ft 9 in/13.34 m
* Height – 4.57 m
* Crew – 1-2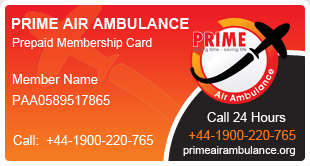 Need And Importance of Air Ambulance




Posted on October 10, 2012


When you are traveling an Air ambulance could be the most important travel necessity. In case of medical emergency you require medical attention and immediate transport from the area to a hospita
About Prime Air Ambulance
Connect With Us
India Sales
Suite 311, 3rd Floor, G-5 I.G.I. Airport
Palam, New Delhi-110037
ops@primeairambulance.org
Global : +44-1900-220-765
Regional Direct: +91 - 9711198934
Air Ambulance Services in India:
International Air Ambulance Services: